About Us
Owners & hosts Stu and Andi welcome you to our small, sunny and friendly accomodation amongst Kanuka trees only 5 minutes from the start of the Abel Tasman National Park.
This area is our backyard where we have kayaked, hiked, climbed and biked and have got to know it very well.
We can offer you good local advice on planning what to do while you are in our beautiful area and where to visit on the next stage of your journey.
Our Backpackers is located on a ridge surrounded by 5 hectares of peaceful forest and abundant with native birds. We are 3 km from the Abel Tasman National Park and 60 km from Nelson.

We actively promote conservation through: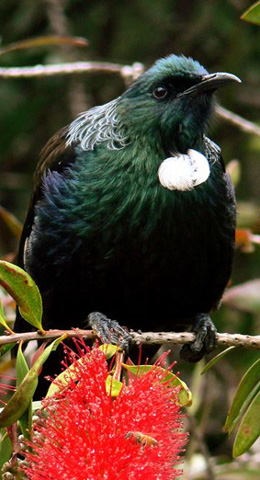 The restoration of the forest surrounding our backpackers to only native species through the removal of exotic (introduced) trees. Trapping to reduce introduced pest numbers and restore habitats allowing native species especially birds to recover.
The building of walking tracks through our forest areas allows guests the opportunity to appreciate this along with the sound of our amazing birdsong.
We minimize waste and recycle all plastics, glass, paper etc through our local District Councils recycling program.
The abundant local sunshine is used to dry washing, the use of eco and solar lights, gas for cooking and water heating all help in reducing our electricity consumption.
To advocate for indigenous species conservation and long term control.
We use environmentally friendly cleaning products.
Our water (probably the best you will taste anywhere) comes from our own natural spring. Waste water passes through our treatment system and grey water is recycled to irrigate areas of the forest